WELCOME TO GUGLIELMO, LOPEZ, TUTTLE, HUNTER & JARRELL , L.L.P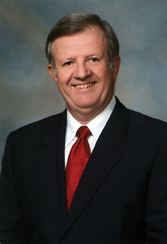 JAMES C. LOPEZ
James C. Lopez graduated from undergraduate school at LSU with a B.S. in Business Administration majoring in insurance and real estate. He obtained his Juris Doctor degree from LSU Law School in 1971. He practiced law in Baton Rouge and Port Allen, Louisiana before returning to his home in Opelousas to join James T. Guglielmo in continuing the firm that was then known as Lewis & Lewis. While in school and later as an attorney practicing in Baton Rouge, he worked as a law clerk, staff attorney and eventually Chief Attorney with the Louisiana Legislative Bureau.

Mr. Lopez's practice with the firm has for many years been concentrated in the insurance defense field. He has been involved in litigation for all 36 years of his practice and has tried cases covering a wide variety of issues. His current practice concentrates in the area of business organizations, transactions, banking, real estate and probate. He maintains an AV rating with Martindale Hubbell. He is admitted to practice before the Courts of the State of Louisiana, all of the Federal Courts in the State of Louisiana, the Fifth U. S. Circuit Court of Appeals and the United States Supreme Court. He also serves as a mediator.

Mr. Lopez is member of the Louisiana State Bar Association, the St. Landry Parish Bar Association, and the Louisiana Association of Defense Counsel. He formerly served in the Louisiana Bar Association House of Delegates and was Vice-Chairman of the Bar Association's Section on Insurance, Negligence, Compensation and Admiralty Law.

In civic activities, he has served as the chairman of the West Baton Rouge Parish Industrial Board and the West Baton Rouge Parish Tourist Committee. He has also served as a member of the St. Landry Airport Authority. He is a past president of the Jaycees and currently an active member of the Opelousas Rotary Club. Outside of his practice, Mr. Lopez enjoys hunting, fishing, raising thoroughbred horses, and is an active private pilot.